Outdoor Spaces
Thomas H. Stafford Jr Commons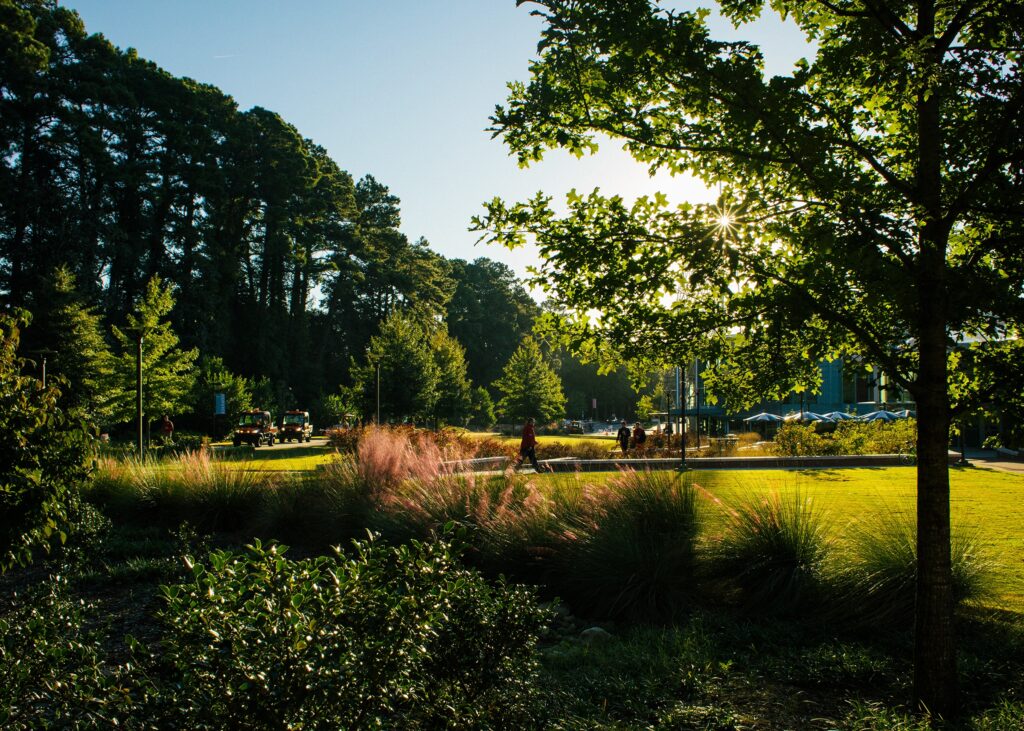 Thomas H. Stafford Jr. Commons, more casually known as Stafford Commons, is the green space located on the North side of Talley Student Union. This space serves as an active area for campus life and is available for all sizes of events. This space also offers tabling opportunities for groups looking to share information with the student population. Stafford commons can now be divided into three separate sections to maximize use of space and support event needs. For Stafford Commons reservation rates please click here.
Harris Field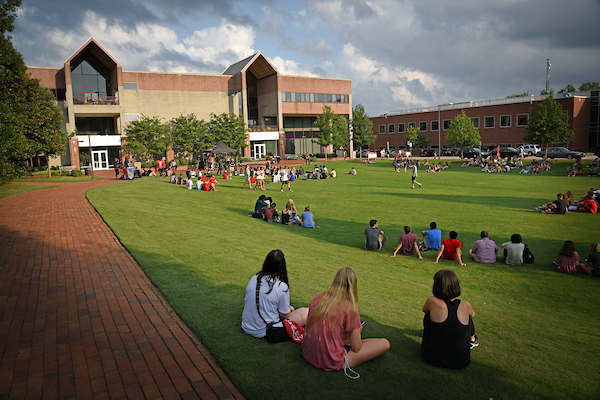 Harris Field is located on the Western side of Witherspoon Student Center at the intersection of Dan Allen Drive and Cares Ave. Harris Field can now be divided into two separate sections to maximize use of space and support event needs.
University Plaza (The Brickyard) – unavailable for reservations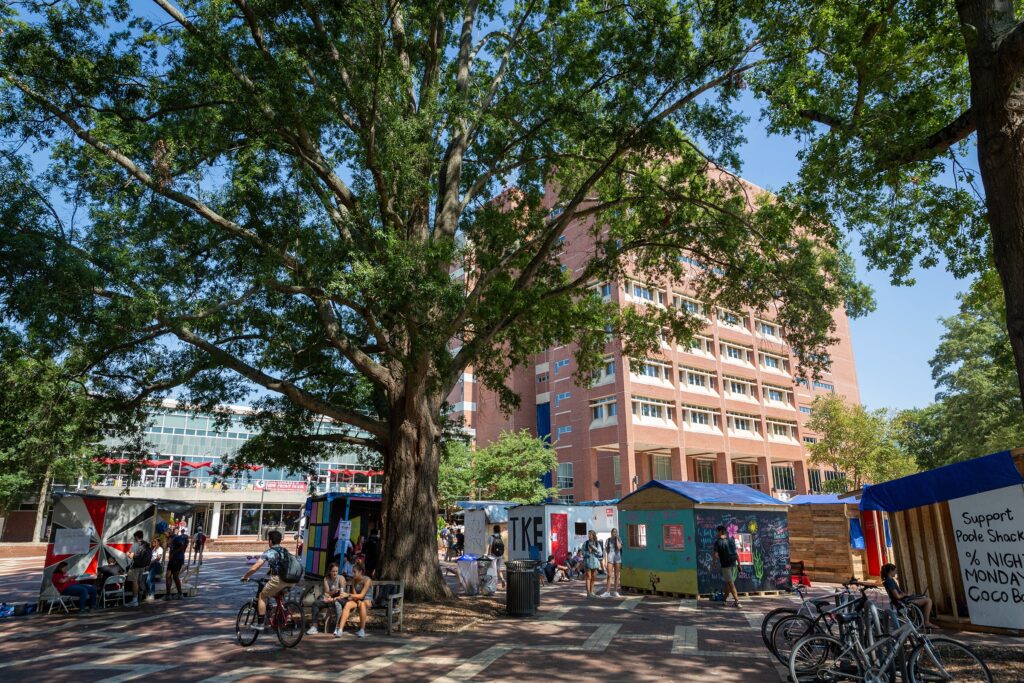 Officially named "University Plaza," it is a hallowed place where the NC State community has crisscrossed, congregated and celebrated for decades. At most, the 45,240-square -foot Brickyard can hold about half of the university's current student population at any one time, but it is a daily home to all of them. The Brickyard will be unavailable for reservations beginning July 2023 for the duration of the ISB construction project.
Wolf Plaza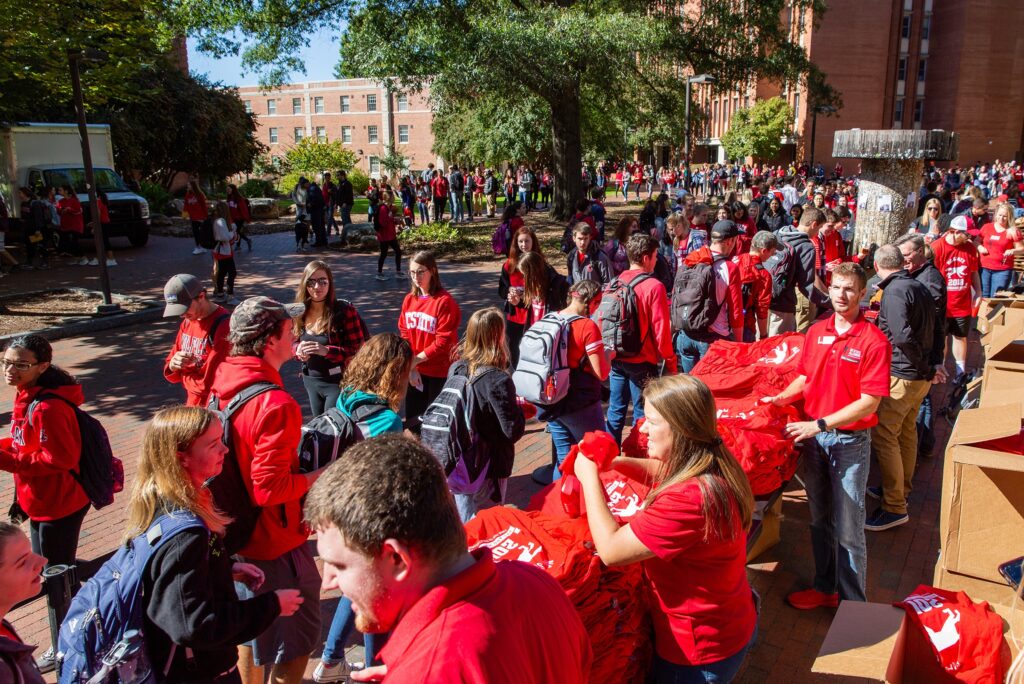 Wolf Plaza, located near several residence halls and the Talley Student Union, features a trio of bronze wolf sculptures by artist Michael Stutz. Near Wolf Plaza is the Free Expression Tunnel, one of NC State's iconic landmarks. Wolf Plaza is one of our two regular outdoor tabling locations, along with Stafford Commons.
Court of North Carolina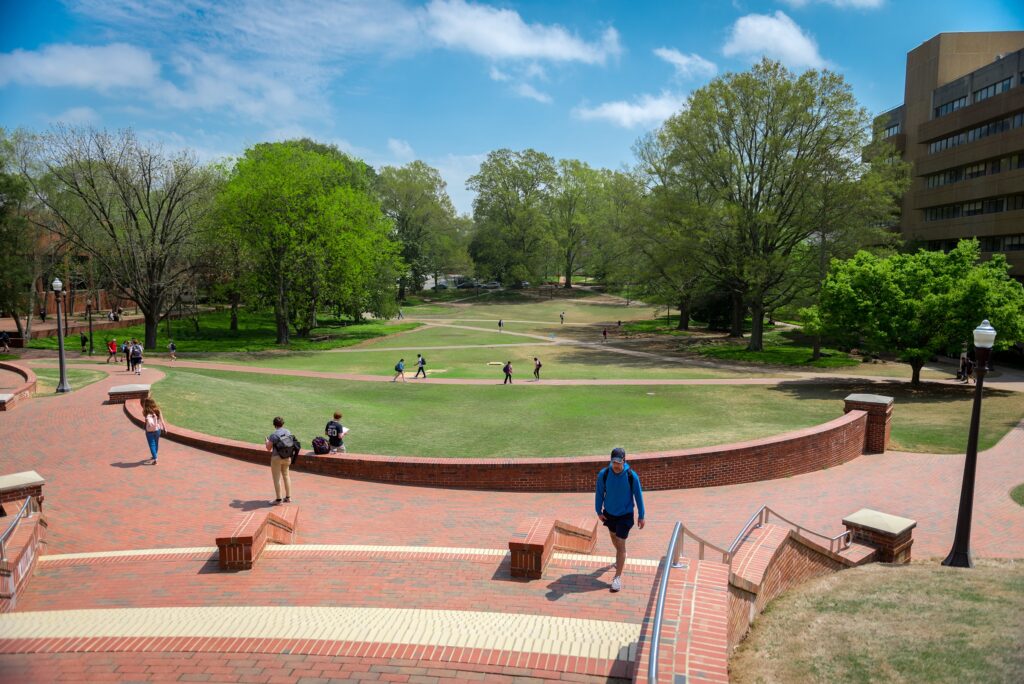 The Court of North Carolina, lined by some of the oldest, most beautiful buildings on campus, is the largest green space on main campus. You'll see students reclining on the Court of North Carolina on sunny days between classes eating lunch or studying for their next exam. On snow days, it's one of the first places students congregate for winter fun. Professors utilize this space during nice weather as an outdoor classroom for that day's lecture.
Memorial Belltower at Henry Square
Originally built to pay tribute to those who fell in past conflict, the Belltower has become a symbol of inspiration to the Wolfpack community. For more information please visit this site. All reservations for the Memorial Belltower at Henry Square must go through an approval process prior to being confirmed.
Other Outdoor Spaces
Governors Scott Courtyard
Schaub Plaza
Mary E. Yarbrough Courtyard
Gardner Arboretum