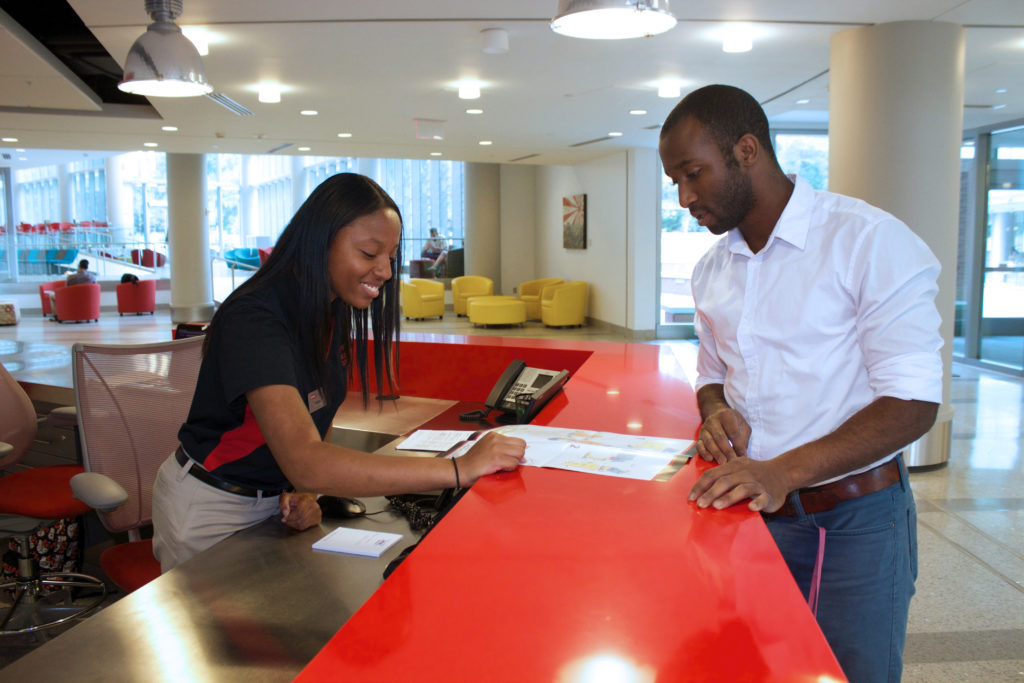 The Info Desk is located on the second floor of Talley Student Union in the main lobby. Staff are available to answer your questions.
Email: uscinformationdesk@ncsu.edu
Phone: 919-515-3138

Frequently Asked Questions
Q: Where are the restrooms in Talley?
There are two restrooms on the 2nd floor and 3rd floor of Talley, and one restroom on the 4th floor and 5th floor. There are single occupancy restrooms on the 3rd floor, 4th floor, and 5th floor of Talley.

Q: Are there rooms we can have club meetings in?
Yes, Talley can accommodate meetings of up to 1,200 guests. You can view options for reservable rooms, and make your reservations through Rave! Events.

Q: Where do apply to work for Campus Enterprises?
View current openings and information about employment with Campus Enterprises.
Q: Are there any printers in Talley?
Yes. There is one black and white only printer in Talley (2nd floor near Port City Java), and two color printers (3rd floor and 4th floor right next to the elevators on top of the red counter). More information about the WolfPrint.

Q: Where is Ticket Central?
Purchase tickets online, or in person in the lobby of Thompson Hall. Or call 919-515-1100.
Q: Where can I get my student id?
The WolfPack OneCard office is located on the 2nd floor in the office next to the Information Desk and PNC Bank

Q: Is there a microwave in Talley?
Yes, it is located against the wall with the utensils in One Earth.

Q: Are there mail drop boxes on campus?
Jensen Drive, there are two right in front of Poe/ near SAS.

Q: Can I get a copy of the Technician and Nubian Message in Talley?
Copies of the Technician and Nubian Message are available at the newspaper stands on the 2nd floor by the Information Desk and on the 4th floor by Student Involvement.

Q: Where is the bookstore?
Wolfpack Outfitters is located on the 1st and 2nd floors with entrances in the 2nd floor lobby and Starbucks.