About The Den at Harris Field
This initiative is a collaboration between NC State Capital Projects, Grounds and Building Services, Student Centers, the Division of Academic and Student Affairs, Emergency Management and Mission Continuity, and Coca-Cola. The concept is to provide an appropriate temporary outdoor space where students can socialize in a time of social distancing. Sand was added to the field to keep the space from getting muddy, and to allow the space to be re-turfed easily at the end of the semester.
If you've visited The Den at Harris Field and have feedback or questions, you can submit both here.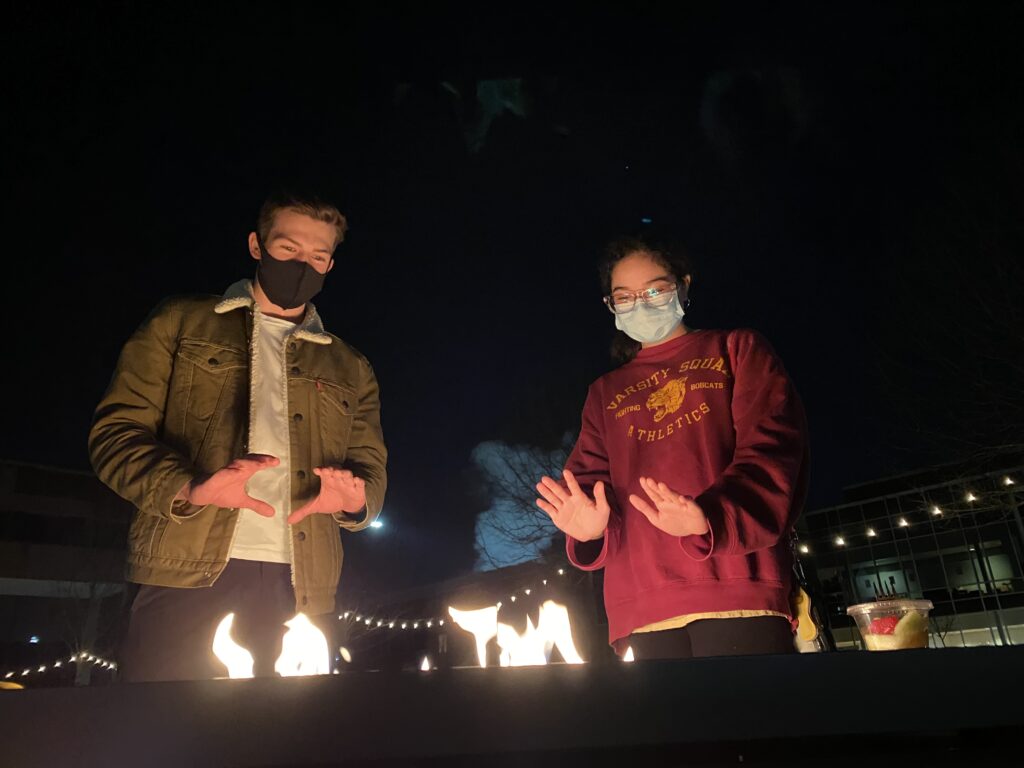 Hours of Operation
Outdoor Lounge available for use (weather permitting) Monday – Sunday 7am-10pm
Fire Pits and Games available for use (weather permitting) Thursday – Sunday 5pm-10pm
Requests to reserve the space for programming or events will be reviewed on a case by case basis. Please visit the Rave Events website to submit a request.
Weather Closure Guidelines
The Den at Harris Field will be closed if any of the following weather conditions apply:

Temperatures below freezing (32 degrees fahrenheit)
Steady rainfall
Lightning within 10 miles
Wind speeds in excess of 15 miles per hour
Covid Safety
Face Coverings must be worn at all times. If you do not comply, you will be required to leave.
Hand sanitizer and cleaning materials will be available through the Onsite Manager Thursday – Sunday from 5pm-10pm.
Games Available for Check Out
Corn Hole
Ladder Ball
Playing Cards
Checkers
Giant Jenga
Giant Checkers
Connect4
Frisbees
Fire Pit Guidelines
Fire pits cannot be operated without Onsite Manager present – do not attempt to turn on fire pits or adjust them without Onsite Manager assistance.
No flammable materials allowed on or near fire pits when in use.
If fire pits are used to roast marshmallows, users are responsible for cleaning up after themselves.
If your fire pit stops working while in use, please ask the Onsite Manager for assistance.